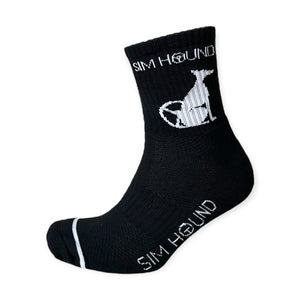 Sim Hound Sim Racing Socks - 3 Pairs
Sale price Price $26.00 Regular price $26.00 Unit price / per
3 pairs included so you can find your perfect combination!

For a Single Pair click HERE
Heel & Toe Grip ✅
Heel Grip ✅
No Grip ✅
Worldwide Shipping available on these Socks!!


Our Sim Racing Socks are here to give you the chance to find your perfect set up!

Three pairs are included:


First Pair:

 With silicone grip added to both the heel and the toe areas


Second Pair:

With silicone grip added only to the heel


Third Pair:

With no additional grip provided

No two racers are the same, whether it be a slightly different pedal set, different seating position or different driving styles our socks make it possible for you to get the perfect set up.

Some prefer to grip the pedal while some prefer to slide the foot on the pedal, the choice is yours.

As well as the features offered by the silicone grips, the socks designed to make racing as comfortable as possible.

The top of the sock has been developed with a breathable elasticated material to keep your foot cool and fresh during hot races.

The bottom of the sock has been manufactured with extra material to reduce stress on the heel and ball of the foot.

Arch support is included with our socks to prevent foot pain.

The sock is manufactured from a high wicking material to reduce moisture build up during long races.


Made with 75% Cotton, 20% Polyester, 5% Spandex
DO NOT BLEACH, DO NOT TUMBLE DRY.
Note: Tax is included for UK customers only.